Using the DIO-box
NOTE: The drivers are already installed on the 'onderwijslaptops'.
F⚡☠k IT: I want to use my own laptop in the EEG setup
Okee, Then first install the NIDAQ drivers
Before you start connecting the DIO box, it is essential that you install the NIDAQ core drivers on the laptop that controls the DIO Box. For now only windows laptops can be used
Installation procedure:
1. Unplug the DIO-box USB
2. Download the NIDAQ installer from CANVAS (EEG: software: NIDAQ core drivers) and run it on your laptop.
3. Follow the instructions. It can take some time to finish, be patient!
4. Restart after it finishes.
5. Plug in the USB of the DIO-box, when installation is completed, the green light will flash
NOW Connect the Digital IO-box
DIO-box: overview of connections.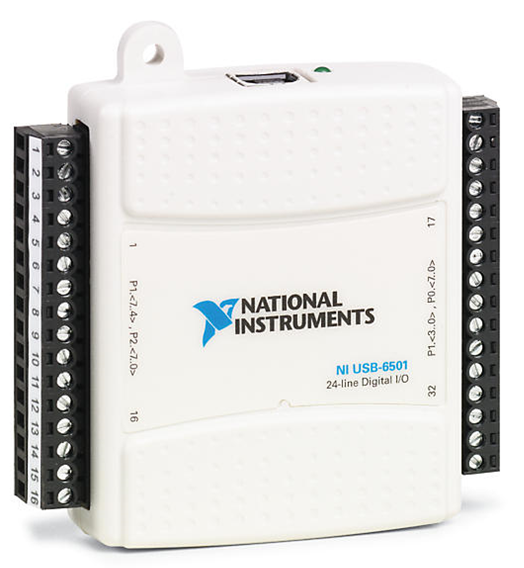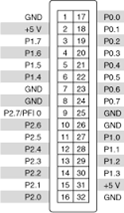 Marker Table
The Stimulus Presenter software enables you to trigger the DIO-Box and send markers to the EEG-recorder allowing you to synchronize behavioral events with your physiological data.
Use the Table below to make the connections.
| Trigger Channel | CABLE #10-22 | Marker Channel |
| --- | --- | --- |
| DIO-box | COLOR | EEG_Recorder |
| P0.0 (17) | light pink | 1 |
| P0.1 (18) | brown | 2 |
| P0.2 (19) | green | 3 |
| P0.3 (20) | yellow | 4 |
| P0.4 (21) | grey | 5 |
| P0.5 (22) | pink | 6 |
| GND (25) | purple | |
Don't forget to connect GROUND: the purple wire to one of the GND ports on the DIO-box