Recording oscillations and ERPs
There are two main designs that are used in EEG experiments: Recording oscillations and recording ERPs. You will design an experiment wherein you will record both.
Use Stimulus Presenter to construct one task with three sub-tasks according to the design below. Have your participant perform these three sub-tasks accompanied by instruction slides:
Sub-task 1: Eliciting alpha oscillations, that are strong during rest
Sub-task 2: Eliciting Beta oscillations, that are strong during attention, concentration and calculation.
Both should have a duration of 1 minute in total and should be accompanied by proper controls and instruction slides.
Sub-task 3: Showing the participant 30 happy, 30 sad and 30 neutral faces in random order for one second each, recording ERPs. Download the pictures from CANVAS.
Experimental Design Demo Task: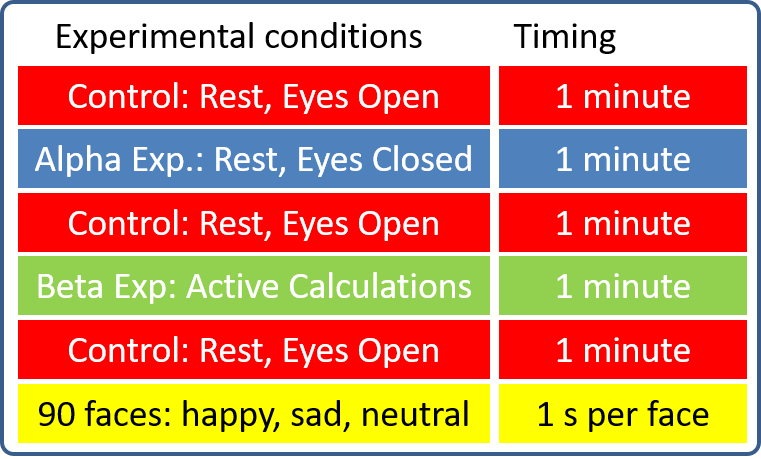 Use Stimulus Presenter to control your experiment. Construct relevant instruction slides for your participant.
Use Markers (DIO's) acccording to the flow chart below to synchronize events created in Stimulus Presenter with your EEG recording.

Then dry-run your experiment, before connecting a participant.. This will verify that everything runs properly and the markers are detected by the EEG-recorder: See next section!.
Note: for a dry run it isn't neccesary to present all faces or present a full duration of your alpha and Beta experiment. You can, for instance, dial down the number of repeats in your Stimulus Presenter program. This makes trouble shooting easy and fast!