The recorded signal is comprised of a wanted signal and noise
The potential difference registered by a pair of electrodes does not only consist of brain activity. Various other internal and external sources contribute to the recorded signal, and their combined contributions may be referred to as (artefacts and) noise.
Noise from the electromagnetic environment
In electrophysiology, a major source of noise is generated by interference from the electromagnetic environment. In the present text, the term "noise" will be used to address this electromagnetic interference (EMI) only.
Direct current (DC, current flowing in a single direction) can only flow through a continuous conductor. Placing a capacitor (two conductors separated by a dielectric, a non-conductor) in circuit blocks the current flow completely. For alternating current (AC, current changing direction), the rules are different (Figure 4). Key point to remember is that alternating current is not completely blocked by an interruption of a circuit.
Noise from Capacitive coupling
In fact, it is possible to couple two distinct circuits by way of a capacitor; this blocks all direct current, but allows alternating current to pass. This so-called capacitive coupling is commonly used in electrical circuit design (Figure 5). Given that in essence a capacitor is simply two conductors separated by a dielectric, and AC circuits can be coupled by a capacitor, a problem becomes apparent. In a lab setting, we are surrounded by all kinds of electrical equipment hooked up to the same AC power supply, the 220V, 50 Hz mains grid. The human body is a conductor, all equipment we're using consists of conductors, and everything is separated from everything by air, a dielectric. Effectively, everything in the lab is to some extent capacitively coupled. The alternating electric fields caused by current running through, for instance, the room lighting, induce tiny currents in the other conductors in the room (Figure 6).
Noise from Inductive coupling
In addition to capacitive coupling, inductive coupling can form another source of parasitic currents. An alternating current through a conductor generates an alternating magnetic field, which in turn is able to induce an alternating current in another conductor. This is the general principle behind a power transformer, but to some extent also applies in our lab setting. Inductive coupling can take place between fully isolated circuits, not connected to a common ground (Figure 7).
Noise from electromagnetic radiation
A further source of EMI noise is electromagnetic radiation, transmitted by e.g. wireless communication devices. The fluctuating electric and magnetic fields making up the EM waves induce currents in conductors, acting as antennas.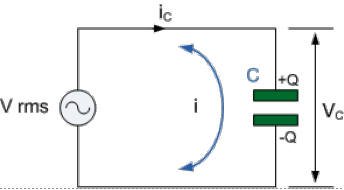 Figure 4: A capacitor in circuit. A DC voltage source simply charges the green capacitor (C), leading to a voltage across the capacitor (Vc) but no current (ic) flowing through it as soon as the capacitor is fully charged, i.e. shortly after turning on the voltage source. An alternating voltage source also charges the capacitor, but when the polarity of the voltage changes, the capacitor discharges and recharges accordingly. In effect, this leads to a constant alternating current flowing in the circuit.
From: http://www.electronics-tutorials.ws/capacitor/cap_8.html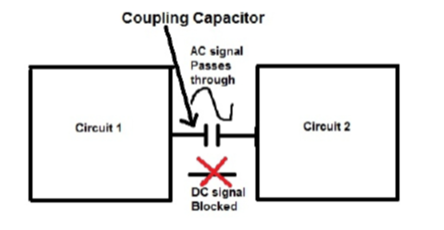 Figure 5: Capacitive coupling. AC flows freely through circuits 1 and 2, but DC is blocked by the coupling capacitor.
From: https://www.sunpower-uk.com/glossary/what-is-capacitive-coupling/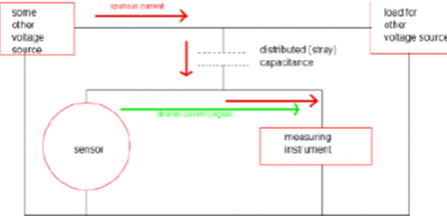 Figure 6: Unwanted (parasitic) capacitive coupling. The current drawn from some voltage source by some piece of equipment ("load for other voltage source") causes a parasitic current (red) to be added to the wanted (green) current in a piece of measuring equipment.
From: http://www.loopslooth.com/Capacitive%20coupling%20problem.html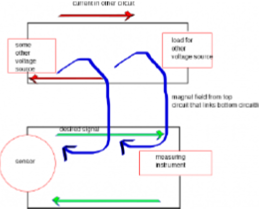 Figure 7: Inductive coupling. The large red current in the top circuit generates a magnetic field (blue), which induces a parasitic current superimposed on the desired current (green) in the measuring circuit.
From: http://www.loopslooth.com/Inductive%20coupling.html